La La Anthony and Carmelo Anthony are only separated, but should they decide to officially divorce, the estranged couple will have to focus on financials.
According to Celebrity Net Worth, the NBA star has a net worth of $90 million and the MTV VJ has $9 million. Before tying the knot, La La and Carmelo signed a prenuptial agreement, but specifics about it aren't known. Joseph Mannis, family law expert at Hersh Mannis LLP, tells E! News what could be at stake for La La and Carmelo if they decide to officially call it quits.
Because they have a prenup, Mannis tells E! News "all bets are off." 
"If there's a prenuptial agreement, all bets are off because the prenuptial agreement has the possibility of affecting the division of property and possibly the alimony also. Without a prenuptial agreement, every time he gets a paycheck for playing basketball, 50 percent of it is hers," Mannis explains. "The question is: the division of property, what's happened to his money, did they save it or spend it? Did they invest it or did they spend it? What's left of it? You cannot divide what has been spent on consumables throughout the marriage (ex: vacations)."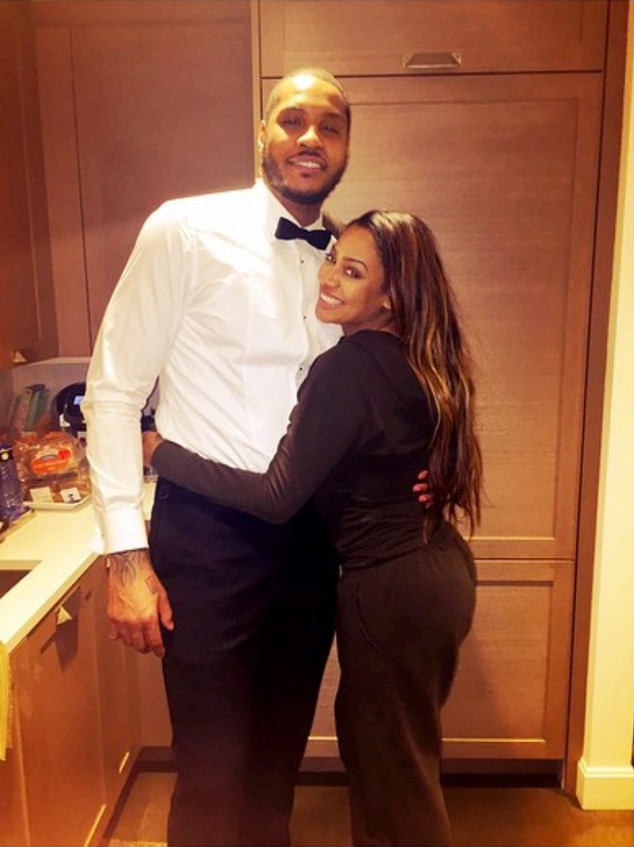 Instagram
Carmelo is in the midst of a $124 million contract with the New York Knicks, so his high income means there is most likely a lot to divide. "The savings might impact if there is alimony and how much," Mannis explains, "but again you would have to know what kind of savings and investments there were throughout the marriage (if any). I've represented athletes who spend more than they make."
Carmelo and La La have one son together, so she could potentially receive child support—and a lot of it. "La La is looking at easily $60,000-$100,000 a month in child support. Then it would be up to [Carmelo] to say that's insane and say that the reasonable needs of the child are going to be somewhere in the $15,000-$30,000 range," Mannis tells E! News.
"Anything that Carmelo would get under $15,000 would be a win for him and anything above $25,000 would be a loss for him. $15,000-$25,000 is what I would predict is the range, but a judge could simply…say, 'Here's what the number is, pay it.' Carmelo's lawyer's job is to reduce that number."
Some prenuptial agreements include "cheating clauses," which entitles the non-cheating party to more money if the spouse strayed. There are rumors that Carmelo impregnated another woman before separating from La La, but sources around the basketball star told E! News, "There is no truth to the pregnancy report."
However, a separate source around La La told us that he is expecting another child.
We'll just have to wait and see what happens if they file for divorce.